Skip to main content
It looks like you're using Internet Explorer 11 or older. This website works best with modern browsers such as the latest versions of Chrome, Firefox, Safari, and Edge. If you continue with this browser, you may see unexpected results.
Gustavus Library Associates
Our friends group, celebrating 35 years, is dedicated to promoting learning, literature, and the Folke Bernadotte Memorial Library. Learn more at their website. If you are a library friend, conisder becoming a member. Every membership dollar goes straight to the library's budget for books, journals, and databases.
Read More About It
You will find the records of the organization in the College Archives. There is also a history of the GLA.
Michael Haeuser. With Grace, Elegance, And Flair: the First 25 Years of Gustavus Library Associates. St. Peter, Minn.: Gustavus Adolphus College, 2002.(General Collection Z673.G87 H34 2002)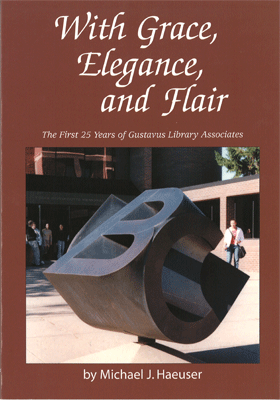 Books in Bloom
For the past two years, the Gustavus Library Associates (GLA), an award-winning friends group, organized a creative event that brought togther sponsors and designers to create floral arrangements inspired by books, films, and journals in the Folke Bernadotte Memorial Library collections. Sponsors pledged money for library acquisitions, and designers donated their creativity, time, and materials to create stunning floral representations.
The event, held during the same weekend as the Celebration of Creative Inquiry and Honors Day, invited guests into the library to view the blooms strategically placed throughout the building, using the exhibit as an opportunity to introduce the library's resources to visitors as they enjoyed the blooms.

This work is licensed under a Creative Commons Attribution 3.0 Unported License