Skip to Main Content
It looks like you're using Internet Explorer 11 or older. This website works best with modern browsers such as the latest versions of Chrome, Firefox, Safari, and Edge. If you continue with this browser, you may see unexpected results.
Equipment
Equipment in the library includes scanners, digital cameras, webcams, and a microfilm reader. See also our guide to Accessibility Services in the library.
Microfilm
Microfilm
Microfilm reader/printer is located on first floor.
Webcams
Webcams
The webcam can be checked out for 24 hours from the Audio Visual Department (first floor) to be used in any room in the library, please contact James Nickras (x7562) for more information.
Digital Camera
Digital Camera
Canon PowerShot G7X Mark II Point & Shoot Digital Camera (with tripod and charger) can be checked out for three days. Please inquire at the Information Desk.
Digital Camcorders & Tripods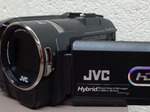 This work is licensed under a Creative Commons Attribution 3.0 Unported License