Skip to Main Content
It looks like you're using Internet Explorer 11 or older. This website works best with modern browsers such as the latest versions of Chrome, Firefox, Safari, and Edge. If you continue with this browser, you may see unexpected results.
Activity Overview
Today you'll search a "country profile" resource for background information related to the migration story from the Bon Appetit article that you read for today. Then we'll share our findings.

What's the goal? To help prepare you to conduct your country of origin research.
Activity Instructions
At today's library session, you'll be assigned one of three sources for country profiles: (1) BBC News Country Profiles, (2) Britannica Online, or (3) the CIA World Factbook.
Imagine that you are going to interview Yia Vang (from the Bon Appetit article) for your Migration Experience Project.

Skim through a relevant entry from your assigned source (links to possible useful entries appear below).

Find a

nugget of information or a quote that would be useful for your Country of Origin Research.
Write that piece of information or quote on the white board. Also include the name of the source. Please limit to three people/groups at the white board at a time.
About Country Profiles
Country profiles are good starting points for overviews and background research. They can provide information on the history, government, economy, geography, education, and other aspects of a country. Different sources (such as BBC News or the CIA World Factbook) include different information in their country profiles, so it's a good idea to consult more than one.
Southeast Asia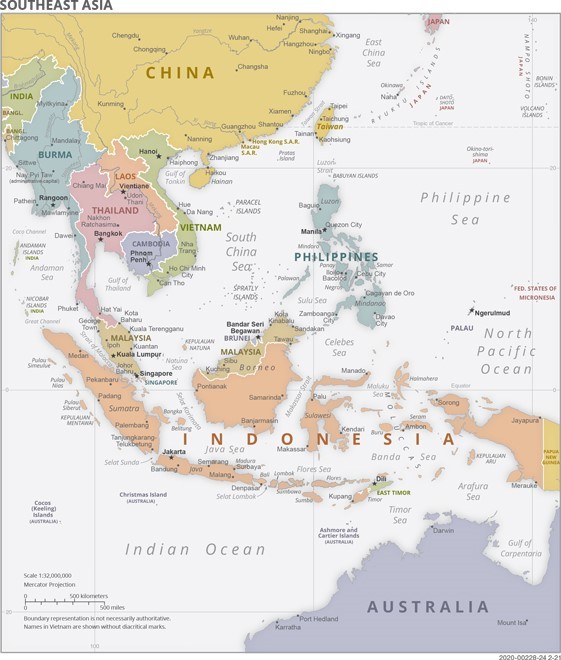 Southeast Asia (CIA World Factbook)

This work is licensed under a Creative Commons Attribution 3.0 Unported License